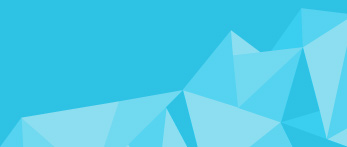 TOP

Introduction of the Innovation Photonics Evolution Research Center
Introduction of the Innovation Photonics Evolution Research Center
About us
March, 2013
MEXT "Development of the Center for International Scientific Innovation by Academia-Industry Cooperation, Fully Utilizing Local Resources, etc."
https://www.mext.go.jp/b_menu/houdou/25/03/1331514.htm
■

Name of the Base: Innovation Photonics Evolution Research Center

■

Theme of the Project in the Base: Realization of the society, beyond time and space, manipulating the light

■

Proposer: Shizuoka University, Hamamatsu University School of Medicine, The Graduate School for the Creation of New Photonics Industries, and Hamamatsu Photonics K. K.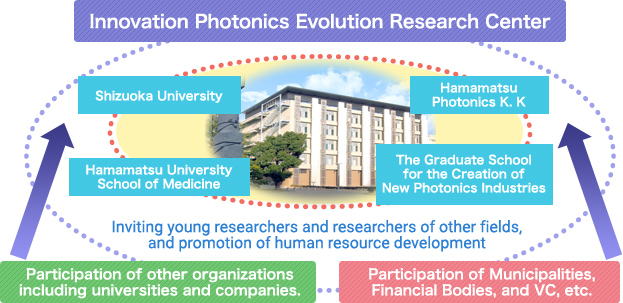 Realization of the society, beyond time and space, freely manipulating the light
Currently in Japan, where birthrate is low and population is aging, solitary people increase because of the low marriage rate and large households are decreasing because of the trend of nuclear families and solo assignments. It is expected that this trend is further accelerated 10 years after now. In such a society, since traveling is not easy and mutual watching becomes rare, how to cope with accidents or crimes becomes the problem. Or, decline of interpersonal relation in families and of participation in local societies might make human relationship awkward, and consequently make fruitful enjoyable life difficult.
Therefore, Innovation Photonics Evolution Research Center aims at manipulating photonics beyond time and space in order to realize the "society where everyone keeps young and lead fruitful life with relief." In concrete, it aims at developing photonics technology which enables insanely fine space and time resolution and technology to freely manipulate wavelength, phase, and intensity of light, thereby realizing a healthy society where diseases are prevented or detected and cured early (manipulate optics for medicine), a society where people can interact with others and society (manipulate light beyond space), and a society where all five human senses are replayed (manipulate light beyond time).
For the above purpose, following 7 subjects are being studied.
① Paradigm shift in industry and medicine by the wavefront-controlled light source
② Revolutionizing Infrared Spectroscopic Measurement Technology and Investigation into the Intermolecular Interaction
③ Implementation of Innovative Time-Space Image Construction Technology (Imaging)
④ Innovation of Optical Time Space Remote Control (Light Remote) Technology
⑤ Implementation of Early Disease Detection
⑥ Formulation of Optical Gene Controlling Tools
⑦ Study of Innovation which Revolutionize Commercializing System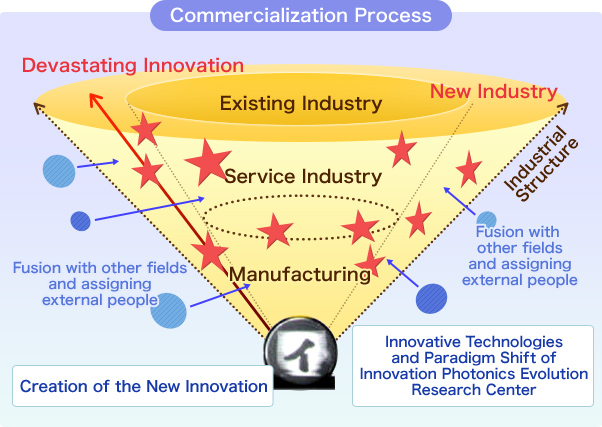 Optics Future Center
As well as innovative studies, Innovative Photonics Evolution Research Center addresses, commercialization and implementation of the achievements. This approach is the installation of "Photonics Future Center." in Shizuoka University and Hamamatsu Medical College.
After the approval of the projects in 2015 "Supporting and Reinforcing Organizations Including Universities to Create Needs and Seeds (Innovation Communication Promotion Program)" and in 2014 "Supporting and Reinforcing Organizations Including Universities to Create Needs and Seeds (COI Vision Interactive Program)" by MEXT, we have had interactive workshops, thinking of designs, among versatile participants with different ideas, experience, and values as a system to discover combinations of entirely new seeds , needs, and ideas.
This project is intended to lead to the "the Interactive Future Session for the Future," encouraged in "Revolutionary Innovation Creation Program (COI STREAM)" of MEXT.
We install the "Photonics Future Center" to utilize ideas of everyone including lecturers, students, corporate researchers, and ventures, to introduce design thought, and to aim at creation of R & D for satisfying future social needs by back casting in Innovation Photonics Evolution Research Center.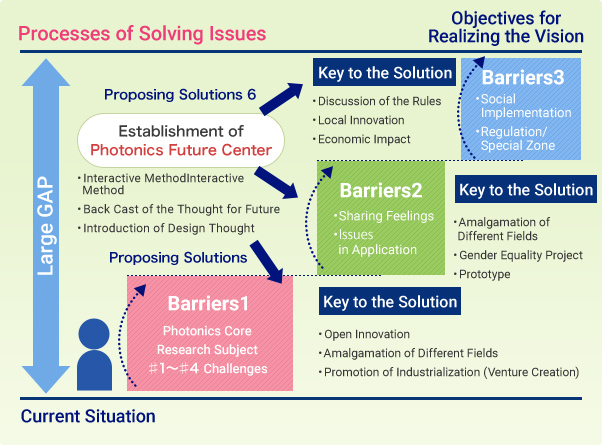 innovative Photonics Evolution Research Center (iPERC)
3-5-1 Johoku, Naka, Hamamatsu, Shizuoka 432-8011 Japan
phone: +81-53-478-3253 / fax: +81-53-478-3256